Members of the Leicester Green Party joined the nationwide rally this weekend to protest the privatisation of NHS services, poor working conditions, pay justice and patient safety.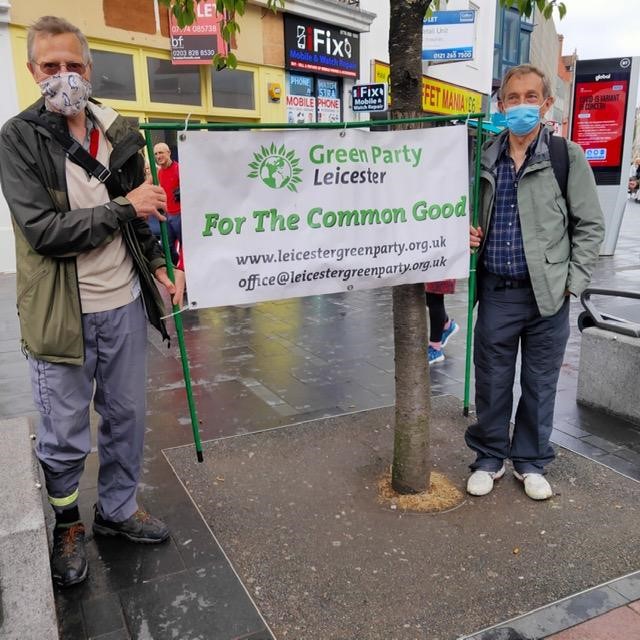 Under the threat of heavy rain nearly 100 people from across the city gathered at Gallowtree Gate to demonstrate their opposition of the disastrous NHS policies of the Tory Government.
The NHS's anniversary is today, 5th July, and continues to be celebrated as a source of national pride. However, the protesters listened to speakers talk about their concerns for the future of the organisation.
One intensive care nurse spoke compellingly about pay justice, highlighting the approximate 40,000 nursing vacancies. Pay justice is not only about paying NHS employees what they are worth but with this huge number of vacancies comes the issue of patient safety.
To give patients the security they require the NHS needs enough staff to provide this. Pay justice would go a long way.
Other speakers included a local NHS nurse, a local mental health worker, local academic and health activist Sally Ruane and the Leicester East MP, Claudia Webbe.
The protest was part of a nationwide day of action with 70 gatherings across the country, all of them protesting pay, patient safety and priviatisation.
Nationally, the protest was backed by a range of organisations including Keep our NHS Public, NHS Workers say No, Health Campaigns together, NHS Voices and Nurses United. 
Here in Leicester the Green Party was proud to stand alongside Save Our NHS Leicestershire against the troubling actions of the Tory Government and their dire running of the NHS. 
If you would like to get involved with the Leicester Green Party please get in contact.